NYT, November 10, 2008, For South, a Waning Hold on National Politics. Fear of the politician with the unusual name and look did not end with last Tuesday's vote in this rural red swatch where buck heads and rifles hang on the wall. This corner of the Deep South still resonates with negative feelings about the race of President-elect Barack Obama. What may have ended on Election Day, though, is the centrality of the South to national politics. By voting so emphatically for Senator John McCain over Mr. Obama — supporting him in some areas in even greater numbers than they did President Bush — voters from Texas to South Carolina and Kentucky may have marginalized their region for some time to come, political experts say. The region's absence from Mr. Obama's winning formula means it "is becoming distinctly less important," said Wayne Parent, a political scientist at Louisiana State University. "The South has moved from being the center of the political universe to being an outside player in presidential politics."
NYT, November 8, 2008, Dissecting the Changing Electorate. One way to consider Barack Obama's success last Tuesday is to consider John McCain's failure. By virtually every electoral measure — including age, sex, race, religion, income and region — Mr. McCain lost ground won by George W. Bush four years ago. For Mr. Obama, the opposite happened. He performed better than John Kerry did among nearly every voter group — significantly better, in some cases. The president-elect won overwhelmingly among blacks, Hispanics and voters under the age of 30. He made inroads among important swing groups, including Catholics, suburbanites, political independents, even veterans. He won in the Midwest, where Mr. Kerry had lost. He even made small gains among groups that typically have been solidly Republican — whites, conservatives, Southerners, regular churchgoers. A deep generational divide revealed itself. Voters under 45 backed Mr. Obama; those 60 and over supported Mr. McCain. The rest were divided. The results also suggest that a significant political realignment may be at hand. The gap between voters who identified themselves either as Democrats or Republicans grew by 7 percentage points, giving Democrats their largest advantage since 1980.
Deep analysis from Louisiana ... "Oui, on peut -- Yes we can!" Obama Zydeco
As expected, the election appeared to produce record turnout, with long lines outside polling stations in many states, on top of record-breaking early voting, in which roughly a third of eligible voters cast their ballots before Election Day. But exit polls suggested that Obama was able to win with a less dramatic surge in young voters and African Americans than many had expected.
Instead, he constructed a much further-reaching coalition, based above all on a rejection of the Republican brand of the last eight years and a desire for change. The shift away from the Republicans did not appear to signify an ideological shift toward the left. The proportion of voters describing themselves as liberal, moderate and conservative stayed roughly the same compared with four years ago.
Although ideological identification appeared stable, there were significant shifts in the demographic undercurrents. Two-thirds of the Hispanic vote went to Obama, compared with 53 percent for Kerry in the last presidential race. The Hispanic margin represents a particular blow to the Bush coalition -- Bush and his advisers had taken pride in building up their share of the Hispanic vote to 44 percent in 2004.
Of the three-quarters of the electorate who were white, the early exit polls showed that about 43 percent voted for Obama, roughly in line with the white vote for Kerry in 2004, Al Gore in 2000 and Bill Clinton in 1996.
But Obama nearly tied with McCain among white voters who had some college education, a group Bush won in 2004 by 11 points. This suggested acceleration of a trend that has been underway for at least a decade, as more and more college-educated white suburban professionals have been moving toward the Democrats.
As expected, Obama won nearly the entire African American vote, about 95 percent, compared with the 88 percent share that Kerry won. With turnout up overall, the surge in black turnout resulted in only a two-point increase in the black proportion of the electorate, from 11 percent to 13 percent.
As a debate was breaking out yesterday among McCain advisers over Gov. Sarah Palin's role in the campaign's struggles, exit polls suggested that McCain's running mate had not helped in a broad swath of the electorate. About 60 percent of voters questioned by exit pollsters said they thought Palin was not qualified to be vice president. She did not appear to have helped McCain with women -- a portion of the electorate Obama won by 13 percentage points overall while losing white women by 7 points. Both were improvements over Kerry's numbers.
Palin may have helped, however, in maintaining the Republican hold on white evangelical Christian voters.
Despite worries among Democrats about Obama's chances with Jewish voters, he won more than three-quarters of them, a slight improvement over Kerry.
He also improved slightly with white Catholic voters -- although McCain held a narrow majority, which would represent the first time that white Catholics did not side with the winner since exit polling began in 1972.
The discontent in the electorate was palpable. McCain spent much of the campaign trying to disassociate himself from Bush. But when exit pollsters asked voters whether they thought McCain would continue Bush's policies or take the country in a new direction, half of them said McCain would continue on Bush's path.
Obama led by nine points among the nearly two-thirds of voters who said the economy was the most important issue facing the country. Half of voters said the economy was in "poor" shape, the worst of four options they were given, which was triple the rate four years ago, and Obama appeared to have won two-thirds of them. More than 40 percent of voters said their finances were worse off than four years ago, compared with a quarter who said that in 2004. Seven in 10 of them voted for Obama.
Washington Post, November 5, 2008; How He Won. Measured Response To Financial Crisis Sealed the Election. [Good narrative of the election end-game.] Sen. Barack Obama, so steady in public, did not hide his vexation when he summoned his top advisers to meet with him in Chicago on Sept. 14. His general-election campaign had gone stale. For weeks, he had watched Sen. John McCain suction up the oxygen in the race, driving the news coverage after the boisterous Republican convention in St. Paul, Minn., and suddenly drawing huge crowds with his new running mate, Alaska Gov. Sarah Palin. Convening the meeting that Sunday in the office of David Axelrod, his chief strategist, Obama was blunt: It was time to get serious.
NYT, November 5, 2008, Near-Flawless Run Is Credited in Victory. [Another good narrative of the election end-game.] It was the third week of September, and Senator John McCain was speaking to a nearly empty convention center in Jacksonville, Fla. Lehman Brothers had collapsed that day, a harrowing indicator of the coming financial crisis and a reminder that the presidential campaign was turning into a referendum on which candidate could best address the nation's economic challenges. On stage, Mr. McCain, of Arizona, was trying to show concern for the prospect of hardship but also optimism about the country's resilience. "The fundamentals of the economy are strong," he said. A thousand miles away, at Senator Barack Obama's campaign headquarters in Chicago, the aides who monitored Mr. McCain's every utterance knew immediately that they had just heard a potential turning point in a race that seemed to be tightening.

back to top
Analyses of Turnout

United States Elections Project - Michael P. McDonald at George Mason University: includes information and analysis of turnout.

Voter turnout rates presented here show that the much-lamented decline in voter participation is an artifact of poor measurement. Previously, turnout rates were calculated by dividing the number of votes by what is called the "voting-age population" which consists of everyone age 18 and older residing in the United States (the yellow line to the right). This includes persons ineligible to vote, mainly non-citizens and ineligible felons, and excludes overseas eligible voters. When turnout rates are calculated for those eligible to vote, a new picture of turnout emerges, which exhibits no decline since 1972 (the green line to the right).
NYT, 11/6/08 (scan from print edition), turnout chart from Michael P. McDonald at George Mason University
General Sources of Polling & Analysis

Pew Research Center - Some of the best in-depth polling & analysis available
Polling Report - a collection of recent surveys from all sources; updated daily (see the current horse races here.)

Other Sites that Synthesize available polling
... and some of them try to predict the Electoral College Vote outcome

Background Polling & Analysis


Polling Report - a collection of recent surveys from all sources; updated daily (see the current horse races here.)


Gallup's Daily Trends - Three-day rolling averages on a variety of indicators of well-being: economic, health, mood, etc. These images give insight on what voters are experiencing now, and help explain voter dissatisfaction with the current administration.

The images here are from 10/26/2008 and don't auto-update. Thus, any statement about "voter dissatisfaction" is only valid through that date & could still change. ...Click on each image to go to the current data on the Gallup website.
Personal Finance


Economic Conditions


Economic Outlook


Consumer Confidence


Standard of Living


Well-Being




Problems & Debates about Polling Accuracy


Some methodological statements from Gallup (their methods are typical of industry standards)



Does Gallup call cell phones? Since Jan. 2, 2008, Gallup has been including cell phone-only households in all of our national telephone Gallup Poll surveys. Households that have only cell phones are now as eligible to fall into our national Gallup Poll samples as those living in traditional landline households.


How do Gallup's likely voter models work? Gallup is providing users of our data with several ways of modeling the electorate, taking into account different assumptions about turnout. The base registered voter model reports the current vote intentions of all registered voters -- the data Gallup has been tracking all year. The "traditional" model assumes that both past voting history and current voting intentions are important determinants of likelihood of voting. The "expanded" likely voter model assumes that current voting intentions are the important determinant of likelihood of voting, and that past voting history will not be the factor that it has in previous elections.



The Washington Post's Behind the Numbers - looks at information from polls, surveys, and voting data, highlighting interesting trends, new findings, and analysis.


Pollster.com/Mark Blumenthal, October 31, 2008, How Do Polls and Exit Polls Handle Early Voting? The most common questions I have been getting via email the last two weeks are about early voting. Specifically, how are pollsters dealing with early voting on the pre-election polls we report and how will exit pollsters deal with the early and absentee voters that do not show up at polling places on Election Day? But key point that some seem to miss: None of the pre-election polls (or at least none that I know of) are excluding early voters from their samples. The totals reported include both early voters and those still considered "likely" to vote next week, so no, we do not have to try to somehow account for early voting in interpreting the poll numbers posted and estimated on Pollster.com or other poll aggregation sites. What about the exit polls? The exit pollsters have, for several elections conducted telephone surveys the week before the election among those who have already voted in states with a rate of early voting they consider significant enough to affect the results. On election night, they combine the early voting telephone survey results with interviews conducted at polling places (except for Oregon, where all voters cast ballots by mail). In 2004 , they did telephone surveys of early voters in 12 states: Arizona, California, Colorado, Florida, Iowa, Michigan, Nevada, New Mexico, North Carolina, Tennessee, Texas, Washington and nationally (for their national exit poll).
Debate on factors that may distort polling's accuracy



AP, Oct 23, Polls apart: Why polls vary on presidential race. Barack Obama is galloping away with the presidential race. Or maybe he has a modest lead. Or maybe he and John McCain are neck and neck. Confusing? Sure, thanks to the dueling results of recent major polls. How can this be? Some questions and answers about why the polls differ.
NationalJournal.com/Mark Blumenthal, Oct. 22, 2008, Deciding Who's A Likely Voter. Pollsters Have Had To Adjust Their Models This Year To Account For A Changing Electorate. This week, I want to look at concerns that the "likely voter" models used by pollsters might miss a flood of new and younger voters that some speculate may turn out this year. Political polling is often a meld of science and art, but nowhere more than in the selection of "likely voters." The basic issue is simple enough: Most pollsters begin by calling a random sample of adults (with telephone service). Some will begin with a sample drawn from a list of registered votes. But all face the challenge that neither all adults nor all registered voters turn out and vote.
NationalJournal.com/Mark Blumenthal, Oct. 15, 2008, Dial A Cell, Reach A Dem. Exclusion Of Cell-Phone-Only Households Means Pollsters Are Probably Undercounting Obama's Support. Let's take a look at how the growth of "cell-phone-only" households may be affecting the political polls we are all obsessing over. More Americans than ever are living in households without traditional landline telephone service. Younger Americans especially are out of reach. This change worries pollsters because most political telephone surveys are conducted via landlines, not cell phones, and these missing cell-phone-only households create the potential for what pollsters call "coverage" bias. Interviewing by landline phone only may cost the Obama-Biden ticket roughly 2-3 points on the margin.

Real Clear Politics/HorseRace Blog/Jay Cost, October 13, 2008, Why No Traction for McCain? On Gallup's Two Likely Voter Models. [Rather nerdy/techie, but interesting!] There have been reams of paper dedicated to reporting on the Obama campaign's voter mobilization efforts. What effect will this massive effort have at the ballot box? Don't ask Gallup. On Sunday the polling outfit began offering its likely voter (LV) model (in addition to its registered voter (RV) model). But this year, there's a twist. Gallup is offering two LV models.
Mark Blumenthal, National Journal, Oct. 8, 2008, Will Winds Of Change Blow Pollsters Away? The Presidential Election Will Bring Three New Factors That Are Keeping Pollsters Up Nights. Will the 2008 election be polling's "perfect storm"? Pollsters rarely say it in so many words, but when they compare notes these days, worry is the prevailing theme. Three big challenges loom that threaten to throw off survey estimates for the matchup between John McCain and Barack Obama. This year's polls "may be undercounting the number of young people who are going to vote," they "may be undercounting the African-American turnout" and they "may not be capturing those white voters who just won't vote for Barack Obama because he's black." (1) Cell-Phone-Only Voters. Since 2004, the cell-phone-only population as a percentage of all adults has more than tripled and now includes nearly a third of adults between 18 and 24. With younger voters expressing overwhelming support for Barack Obama, are pollsters that depend on landline samples understating Obama's support? (2) The Bradley-Wilder Effect. Over the last 10 years, according to a paper by Harvard post-doctoral fellow Daniel Hopkins that studied 133 statewide races between 1989 and 2006, the apparent polling bias in such races largely disappeared. But can we assume that Bradley-Wilder will remain in remission this fall? (3) Likely Voter Models. Will, as many speculate, younger and African-American voters turn out in sufficient numbers to alter the demographic composition in ways that take the pollsters by surprise? And will the assumptions of their "likely voter models" be sensitive enough to accurately capture any such turnout wave, if it occurs? [also see Polling's Perfect Storm]
Princeton Election Consortium/Sam Wang, September 25th, 2008, The cell phone effect: about 1 percent. How much has cell phone usage affected the reliability of polls? The answer may surprise you: Depending on what pollsters do about it, not much at all. Obama's support may be understated by as little as 1%.



The "Bradley Effect" - do survey respondents lie about race?
MEN OF EFFECT Former Mayor Tom Bradley of Los Angeles, top, and former Gov. L. Douglas Wilder of Virginia, above, both lent their names to a voting phenomenon peculiar to black candidates. Mr. Bradley lost in a close race for governor, while Mr. Wilder won in a close race. Polls predicted that both candidates would win by large margins.
Q: Would You Vote for a Qualified Black Candidate of Your Own Party? (among whites)


The "Ground Game:" Turning out the Vote
Plus: Defense against Voter Fraud & Vote Suppression
Background on Karl Rove's successful "Ground Game"
that worked for George W. Bush ... until it didn't

The Hamburger/Wallsten Explanation
of the Rove/Bush Strategy

"One Party Country: The Republican Plan For Dominance in the 21st Century" at Amazon
A September 28, 2006 article in Harpers (here) tries to answer these questions:

The G.O.P. still raises more money than the Democrats, but the Democrats are hardly short of cash. How significant is the G.O.P. advantage in terms of sheer dollars? Are they simply raising more money, or are they also doing a better job of spending it?
How successful has the G.O.P. been in eating away at Democratic support among core constituencies like African Americans and Hispanics?
You say that Republicans have surpassed the Democrats in mobilizing their voters on election day, in part by using databases such as Voter Vault, which allows party activists to track voters by personal hobbies, professional interests, and even by their favorite brand of soda. How does that bank of personal data translate into an advantage on election day? Are Democrats responding with similar programs of their own?
Whatever structural advantages the Republicans have, hasn't the G.O.P. also sought to gain an electoral advantage by suppressing Democratic turnout? How significant are those efforts on the part of the G.O.P., and are we likely to see new and improved methods down the road?
Republicans would no doubt argue that their policies and ideology are simply more popular with the public than Democratic policies. Do ideas still play a role in electoral success or is it all about money and organization?

Diane Rehm show, 27 July 2006, here
Fresh Air with Terry Gross, July 24, 2006, here
BuzzFlash, 08/28/2006, here
Pre-Election Articles
Gallup, November 2, 2008, Final Presidential Estimate: Obama 55%, McCain 44%. Independents break for Obama, boosting Obama's broad Democratic base. The final Gallup 2008 pre-election poll -- based on Oct. 31-Nov. 2 Gallup Poll Daily tracking -- shows Barack Obama with a 53% to 42% advantage over John McCain among likely voters. When undecided voters are allocated proportionately to the two candidates to better approximate the actual vote, the estimate becomes 55% for Obama to 44% for McCain.
Gallup, November 2, 2008, Democrats Lead Big on Generic Ballot. Double-digit lead among likely voters is biggest since 1980. Gallup's final pre-election allocated estimate of the national 2008 vote for Congress -- from Gallup Poll Daily tracking conducted Oct. 31-Nov. 2 -- gives the Democrats a 12 percentage-point lead over the Republicans among likely voters, 53% to 41%. The Democrats have led on this measure in Gallup polling for most of the year, except for one survey after the Republican National Convention in September.
SNL's McCain and "Palin" pre-election sketch for QVC!
NJ/William Schneider, Nov. 1, 2008, The Collapse Of The GOP Vote. Obama isn't much ahead of where Kerry was in 2004, but McCain lags far behind the support Bush received. This is a "throw-the-bums-out" election. And the Republicans are the "bums." Democrats smell victory. The average of seven surveys taken between October 20 and 24 shows Barack Obama with an 8-point lead over John McCain. In 2004, George W. Bush beat John Kerry by less than 3 points. What has happened? The Republican vote has collapsed. It's 9 points lower than four years ago (51 percent for Bush in 2004; 42 percent for McCain). But Obama is doing only 2 points better than Kerry (50 percent for Obama; 48 percent for Kerry). Where did the other voters go? Answer: to the "unsure" category (7 percent). They don't want to vote Republican this year, but they're not certain whether they will vote for Obama.
New York Times, 11/1/08, Map of Electoral Change in past two months
Pew, October 31, 2008, Will Obama Win the White Catholic Vote? Surveys by the Pew Research Center for the People & the Press show that white, non-Hispanic Catholic support for Democratic presidential candidate Sen. Barack Obama has grown, taking him from a 13-percentage-point deficit in late September to an 8-point lead in late October.
Gallup, October 31, 2008, Blacks Appear Poised for High Turnout. Constitute 11% of both of Gallup's likely voter groups, up from 8% in 2004. Black voters are scoring highly this election season on several election interest and voting measures, and thus constitute a higher percentage of Gallup's projected likely voter pool than in previous elections. Additionally, blacks report having received election-related contact from the Obama campaign at a higher rate than do whites, although many fewer blacks have been contacted by the McCain campaign. As is the case among 18- to 29-year-old voters, blacks report having been contacted in disproportionately higher numbers by the Obama campaign than by the McCain campaign. While rates of contact by the Obama and McCain campaigns are similar among whites, blacks are almost four times as likely to report having been contacted by the Obama campaign as by the McCain campaign.
Gallup, October 31, 2008, Update: Little Evidence of Surge in Youth Vote. Obama campaign has contacted about one in three 18- to 29-year-olds. Gallup polling in October finds little evidence of a surge in young voter turnout beyond what it was in 2004. While young voter registration may be up slightly over 2004, the reported level of interest in the election and intention to vote among those under 30 are no higher than they were that year. What's more, 18- to 29-year-olds continue to lag behind Americans aged 30 and older on these important turnout indicators. As a result, 18- to 29-year-olds now constitute 12% of Gallup's traditional likely voter sample, basically the same as the estimate in the final 2004 pre-election poll (13%). A second possibility for heightened youth turnout would be voter mobilization efforts. Such efforts can convince people with little motivation or interest in the campaign to actually vote on Election Day. Gallup has been measuring voter contact in its daily tracking poll this week in an effort to gain a better understanding of this important component of the "ground game" in the final days of the campaign. As of Oct. 27-29 polling, 39% of 18- to 29-year-olds had been contacted by either the Obama or McCain campaigns. That is the same contact rate seen among 30- to 49-year-olds, but is well below that of Americans 50 and older. So thus far, in a general sense, mobilization efforts have not reached the young voters to the same extent that they have older voters.
Gallup, October 31, 2008, Obama Retains Slight Edge Over McCain on Taxes. Americans still more likely to say Obama will increase taxes. A new Gallup Poll, conducted Oct. 23-26, finds Americans still favoring Barack Obama over John McCain as the candidate better able to handle taxes, 50% to 44%, but to a slightly lesser extent than earlier this month. The positioning of the two candidates on the tax issue has taken on increased importance in the last several weeks as McCain in particular has been focusing heavily on the differences between his approach and Obama's approach to taxes.
Gallup, October 28, 2008, Early Voting Now Up to 18%. Obama doing better among those who have voted or say they will vote before Nov. 4. Gallup Poll Daily tracking data collected through Monday night indicate that 18% of registered voters who plan to vote have already voted, and another 15% say they will vote before Nov. 4; so far the voter preferences of this early voting group are somewhat more tilted toward Obama than those who say they will wait to vote on Election Day. The voter preferences of individuals who have already voted show a 53% to 43% Obama over McCain tilt. Among the group of those who say they have not yet voted, but will before Election Day, the skew towards Obama is more pronounced, at 54% to 40%. By comparison, those who are going to wait to vote on Nov. 4 manifest a narrower 50% to 44% Obama over McCain candidate preference. (Across all registered voters over this time period, Obama leads McCain by a 51% to 43% margin). These results indicate that, with each passing day, Obama appears to be freezing in place a higher and higher percentage of votes tilting in his favor, making that portion of the overall electorate impervious to any last minute campaign trends. At the least, the results certainly suggest that the vote returns on Election Night will be incomplete, and perhaps misleading, if absentee and early voting results are not included.
WP, 10/27/2008, WP-ABC Tracking: In the Final Week. The Washington Post-ABC News daily tracking poll shows Barack Obama kicking off the final full week of campaigning with a seven-point lead over John McCain, but beneath the nationwide number are big regional and racial differences. Obama is outperforming any Democrat back to Jimmy Carter among white voters, getting 45 percent to McCain's 52 percent. But in the South, it is a very different story. Obama fares worse among Southern whites than any Democrat since George McGovern in 1972.
Pollster.com/Steve Lombardo, October 27, 2008, Eight Days to Go and McCain Can't Seem to Break Through. Here is our up-to-the-minute assessment of the state of the Presidential campaign:
While McCain has stopped most of his downward slide, he still lags Obama nationally and in key states.
However, the gap will close because late-deciders will largely move toward McCain in the final days before the election.
Obama has solidified his position on the electoral map.
While clearly Obama's "ground game" was a factor this year in his primary victory, we feel the importance of grassroots and organizing activities in Presidential general elections is often overstated.
McCain's increasing unfavorable rating is a problem for him and correlates with the drop in his share of the vote.
Team Obama has their foot on the pedal and isn't letting up.
Virginia is turning out to be the paradigm battleground for both sides.
Missouri and Ohio are close and will go down to the wire.
Washington Post, October 25, 2008; As Election Day Nears, Poll Shows Obama Leads McCain. Handling terrorism and the war in Iraq continue to be relative strengths for John McCain, but few voters cite either issue as their top concern, limiting the Republican nominee's options for reframing the debate to his advantage as Election Day approaches. Fifty-one percent of all voters call the economy the No. 1 issue in deciding their presidential choice., and Obama is winning these voters handily, by a 62 to 35 percent margin.
Pew, Oct. 23, 2008, How Church Attendance Affects Religious Voting Patterns. The latest report from the Pew Research Center for the People & the Press shows that, as in previous elections, differences in voting patterns by religion are amplified when church attendance is taken into account. For example, Barack Obama has made no headway among white evangelical Protestants who attend church at least once a week; just 17% of this group supports him. By contrast, 37% of white evangelicals who attend services less frequently support Obama. Similarly, while Obama has made gains among Catholics overall, he runs even with John McCain among observant white Catholics (45% to 45%). He now has a clear lead among white Catholics who attend Mass less frequently (53% to 38%).
SNL's Palin Sketch for Oct 23, 2008: The Bush Endorsement...
NYT, October 23, 2008, Polls Show Obama Gaining Among Bush Voters. Senator Barack Obama is showing surprising strength among portions of the political coalition that returned George W. Bush to the White House four years ago, a cross section of support that, if it continues through Election Day, would exceed that of Bill Clinton in 1992, according to the latest New York Times/CBS News polls. Mr. Obama led Mr. McCain among groups that voted for President Bush four years ago: those with incomes greater than $50,000 a year; married women; suburbanites and white Catholics. He is also competitive among white men, a group that has not voted for a Democrat over a Republican since 1972, when pollsters began surveying people after they voted.
Washington Post, October 23, 2008; Ideological Fire Misses the Mark. Despite strong GOP efforts to define Barack Obama as "too liberal" and an equally pointed Democratic campaign aimed at labeling John McCain as "too conservative," voters' impressions of the main presidential contenders' ideological leanings have budged little since June, according to a new release from the Washington Post-ABC News tracking poll. McCain has argued consistently that Obama's policy views closely resemble those of a typical tax-and-spend liberal, and Obama has countered by portraying McCain as a repackaged version of George W. Bush's compassionate conservative, minus the compassion. But neither candidate appears to have made great inroads here: The proportions of likely voters who consider Obama as too far left, 40 percent, and McCain as too far right, 38 percent, both have held basically steady.
Gallup, October 23, 2008, Obama Winning Over the Jewish Vote. Three-quarters of U.S. Jewish voters now plan to back Obama for president. Jewish voters nationwide have grown increasingly comfortable with voting for Barack Obama for president since the Illinois senator secured the Democratic nomination in June. They now favor Obama over John McCain by more than 3 to 1, 74% to 22%. The current proportion of U.S. Jews backing Obama is identical to the level of support the Democratic ticket of John Kerry and John Edwards received in the 2004 presidential election (74%). It is only slightly lower than what Al Gore and Joe Lieberman received in 2000 (80%) -- when the first Jewish American appeared on the presidential ticket of a major party.
Gallup, October 23, 2008, No Increase in Proportion of First-Time Voters. Thirteen percent of registered voters say they will be voting for first time. The signature characteristic of first-time voters is their youth. Among registered voters, 62% of those who say they will be voting for the first time are below age 30. Nearly half of first-time voters (47%) come from a racial or ethnic minority group. That is higher than the proportion of first-time voters who were minorities in 2004 (33%), and could reflect the historic nature of Barack Obama's candidacy. First-time voters show solid support for Obama, 65% to 31%. That is a better showing for the Democratic candidate than in 2004, when first-time voters favored John Kerry over George W. Bush by 55% to 41%. Bottom Line. Although there is speculation that Obama's candidacy -- given his appeal to young and minority voters -- could bring an unusually large number of first-time voters to the polls this year, the proportion of registered voters who say they will be voting for the first time is no higher than it was in 2004.
Gallup, October 22, 2008, Young Voters Favor Obama, but How Many Will Vote? Still lag behind older voters on key turnout indicators. Although Barack Obama leads John McCain by almost 30 percentage points among 18- to 29-year-old registered voters, these younger voters are still less likely than older voters to report being registered to vote, paying attention to the election, or planning to vote this year. Obama's share of the vote would increase only if young voter turnout is much higher than it has been in the past, and at that, he gains only 1 percentage point.
Gallup, October 21, 2008, Hispanic Voters Divided by Religion. Catholics and those who attend church less often are most supportive of Obama. Taken as a group, Hispanic voters solidly support Barack Obama over John McCain for president, but there is a significant difference in the Hispanic vote by religion. Catholic Hispanics support Obama by a 39-point margin, while Hispanics who are Protestant or who identify with some other non-Catholic Christian faith support Obama by a much smaller 10-point margin. Additionally, as is true in the general population, Hispanics who are most religious are most supportive of McCain, while Obama garners his greatest support among Hispanics who attend church services least often.
The New Republic, October 21, 2008, The Message Keeper. How David Axelrod learned to conquer race. Obama kept courting Axelrod, because Axelrod had proven the master of the key to Obama's political future: He knew how to sell black candidates to white voters. It's a formula Axelrod developed working on a series of black mayoral candidates' campaigns in cities such as Cleveland, Detroit, Philadelphia, and Washington, D.C. Once Obama finally won him over, in 2002, Axelrod used it to elect Obama to the U.S. Senate. And now, with Axelrod serving as the Obama campaign's chief political and media strategist, that formula is poised to send the first African American to the White House.
Washington Post, October 21, 2008; Obama Leads Among the Young and the Landline-less. Barack Obama is up 12 points over John McCain among white voters under 30, according to a new Washington Post-ABC News tracking poll. That is a reversal from 2004, when John F. Kerry lost these voters by 10 points. The senator from Illinois is also exceeding Kerry's take by large margins among first-time voters (20 points better), moderates and African Americans (nine points each). Another closely-watched group this year, particularly for the poll-obsessed, are those voters who have abandoned traditional phone service for mobile phones. Obama leads by better than 2 to 1 among these voters.
Gallup, October 21, 2008, As the Economy Goes, So Goes the Vote. View of economy strong predictor of vote. A new Gallup analysis of more than 40,000 interviews conducted over the last month and a half shows a strong correlation between trends in voters' candidate preferences in the election and consumer views of the U.S. economy. Barack Obama's margin of support over John McCain has risen proportionately when the percentage of Americans who are negative about the U.S. economy increases. Obama's front-runner margin has fallen when economic negativity decreases. These data suggest that one of McCain's best hopes of improving his positioning against Obama in the remaining two weeks of the presidential campaign would be for a sharp drop to take place in the percentage of Americans holding negative views of the U.S. economy.
NYT, October 20, 2008, Obama Appeal Rises in Poll; No Gains for McCain Ticket. As voters have gotten to know Senator Barack Obama, they have warmed up to him, with more than half, 53 percent, now saying they have a favorable impression of him and 33 percent saying they have an unfavorable view. But as voters have gotten to know Senator John McCain, they have not warmed, with only 36 percent of voters saying they view him favorably while 45 percent view him unfavorably.
...And with that moose (what?)
Gallup, October 16, 2008, Recent Obama Surge Evident Among Men, Less Educated. Independents have also swung strongly in Obama's direction. [Good overview of social groups] In the week after the Republican National Convention, John McCain led Barack Obama 47% to 45% among registered voters nationwide. Then the financial crisis emerged as a major issue, and Obama quickly took the lead. In the most recent full week of Gallup Poll Daily tracking data (Oct. 6-12), that lead has expanded to 10 percentage points. Obama's surge in the polls in recent weeks has been fairly broad-based across demographic and political subgroups of the electorate, but he has made particularly notable gains among men, those with less formal education, and middle-aged voters. These groups have tended to lean in McCain's direction or be about even, so it is clear that the movement is a bad sign for the McCain campaign.
CNN, October 15, 2008, Poll gives debate to Obama. A majority of debate watchers thought that Barack Obama won the third and final presidential debate, according to a national poll conducted at the end of the debate.
CNN Post-Debate Polls for All 3 Presidential Debates
(data at PollingReport.com)
Gallup, October 15, 2008, Previewing the Final Presidential Debate. McCain will need to address economic concerns. Obama is clearly in the driver's seat going into Wednesday night's debate, leading in the overall horse-race preferences of voters, besting McCain on important issues relating to the economy, and dominating public perceptions of who is most empathetic to the concerns of the public and is ready with a plan to fix them. McCain, on the other hand, is associated with an unpopular president and represents a political party that in this election is seen significantly less favorably than his opponent's party. Nevertheless, McCain does have some strengths he could play off of in his attempt to shake up the race and reduce Obama's lead. McCain retains a strong positioning vis-à-vis Obama on terrorism and, to a lesser degree, Iraq, and is also just as likely as Obama to be seen as being a strong and decisive leader and a good manager. McCain's overall image is also positive, and just slightly less so than Obama's.
NYT, October 14, 2008, Poll Says Attacks Backfire on McCain. The McCain campaign's recent angry tone and sharply personal attacks on Senator Barack Obama appear to have backfired and tarnished Senator John McCain more than their intended target, the latest New York Times/CBS News poll has found. With the election unfolding against the backdrop of an extraordinary economic crisis, a lack of confidence in government, and two wars, the survey described a very inhospitable environment for any Republican to run for office. More than 8 in 10 Americans do not trust the government to do what is right, the highest ever recorded in a Times/CBS News poll. And Mr. McCain is trying to keep the White House in Republican hands at a time when President Bush's job approval rating is at 24 percent, hovering near its historic low. The poll suggested that the overwhelming anxiety about the economy and distrust of government have created a potentially poisonous atmosphere for members of Congress. Only 43 percent of those surveyed said that they approved of their own representative's job performance, which is considerably lower than approval ratings have been at other times of historic discontent. By way of comparison, just before the Democrats lost control of Congress in 1994, 56 percent of those polled said that they approved of the job their representative was doing.
Gallup, October 14, 2008, Seven in 10 Say Obama Understands Americans' Problems. Public also more likely to think Obama has plan to solve problems. Americans are much more likely to believe that Barack Obama understands the problems Americans face in their daily lives than to believe John McCain does. The public not only gives Obama credit for understanding its problems, but also for having a plan to solve them. McCain and Obama are viewed similarly in terms of their leadership and ability to manage the government. At least half of Americans say each candidate shares their values, although more say this about Obama (58%) than McCain (50%).

Implications. In an election in which the economy is the top issue on voters' minds, Obama is already seen as the candidate who can better handle the issue. During the campaign, Obama has been able to convince a growing number of Americans that he understands Americans' problems and has a clear plan for solving them. Also, Obama has been able to largely erase the advantage McCain had over him on perceptions of their leadership ability. That doesn't leave much important territory where Americans believe that McCain is superior to Obama on character or issues, aside from McCain's continued advantage for handling matters of international policy. Thus, in order for McCain to prevail, in the remaining weeks he will either have to convince voters that he is as good as or better than Obama on the economy, or try to shift the agenda so that international matters carry greater weight in voters' minds.
CNN, Oct. 13, 'Great Schlep' pitches Obama to Florida Jews. "Schlep." A Yiddish word meaning to pull, yank or tug, schlep is a good way of describing what it took for Mike Bender to persuade his grandparents to vote for Sen. Barack Obama for president.
Bloomberg, Oct. 13, Obama Gains as New South Trumps Old Race Card. Obama, according to polls and politicians, is running even or slightly ahead of Republican John McCain in North Carolina, a reflection of both the Democrat's campaign and how much this once-decidedly Southern state has changed. North Carolina, like Florida and Virginia, represents a New South politically, different from the deeply conservative, reliably red -- as in Republican -- one that marks most of Dixie.
Gallup, October 13, 2008, Democrats' Election Enthusiasm Far Outweighs Republicans'. Different pattern than occurred in 2004. Only 51% of Republicans say they are more enthusiastic about voting than in previous years, compared to 71% of Democrats, marking a shift from October 2004, when enthusiasm was about the same for both partisan groups.
NYT, October 8, 2008, G.O.P. Facing Tougher Battle for Congress. The economic upheaval is threatening to topple Republican Congressional candidates, putting more Senate and House seats within Democratic reach less than a month before the elections, lawmakers and campaign strategists say. Top campaign officials for both parties, pollsters and independent experts say the intense focus on the economic turmoil and last week's bailout vote have combined to rapidly expand a Democratic advantage in Congressional contests. Analysts now predict a Democratic surge on a scale that seemed unlikely just weeks ago, with even some Republicans in traditional strongholds fighting for their political careers, and Democratic leaders dreaming of ironclad majorities.
Gallup, October 9, 2008. Obama's Race May Be as Much a Plus as a Minus. Much has been written about the impact of race in this year's election, a not surprising fact given that Obama is the first black major-party candidate in U.S. presidential history to gain his party's nomination. The data analyzed here -- based on voters' self-reports -- show that the impact of Obama's and McCain's races appears to cut both ways. Enough voters, particularly nonwhites, say they are more likely to vote for Obama because of his race to offset the small percentage who say they are less likely to vote for him because of his race. And the same is true in reverse for McCain: the impact of nonwhites' saying his race is a negative is offset by those who say it is a positive. More specifically, to review perhaps the most important finding in these data, 7% of white voters say Obama's race makes them less likely to vote for him. But 6% of white voters say Obama's race makes them more likely to vote for him. And among nonwhite voters, Obama's race is a significant net plus. [See additional article here.]

Gallup, October 7, 2008, Voters See Economic Plans as Net Plus for Obama. McCain economic plan more likely to repel than attract voters. Voters are most likely to cite Barack Obama's economic plans and his opposition to the Iraq war as factors that make them more likely to vote for him. John McCain's biggest plus is his support for the 2007 Iraq troop surge. Relatively few voters say the candidates' races will be a factor in their vote.

October 7, 2008, CNN Poll: Obama won the night. Polls suggests Obama has won tonight's debate. A national poll of debate watchers suggests that Barack Obama won the second presidential debate. Fifty-four percent of those questioned in a CNN/Opinion Research Corporation survey conducted after the debate ended said that Obama did the best job in the debate, with 30 percent saying John McCain performed better. A majority, 54 percent, said Obama seemed to be the stronger leader during the debate, to 43 percent for McCain. By a greater than two to one margin — 65 percent to 28 percent — viewers thought Obama was more likeable during the debate. "Obama had made some gains on the leadership issue even before the debate," said CNN Polling Director Keating Holland. "McCain's advantage on leadership shrunk from 19 points in September to just five points this weekend. If Obama can use this debate to convince Americans that he is a stronger leader than McCain, he may be difficult to defeat."
Politico.com, Oct. 7, 2008, Special Report: Race Matters?

10/6/08. Race drives strategy, stirs uncertainty. By far the most likely thing that could derail Obama's victory is a racial backlash that is not visible in today's polls but is waiting to surge on Election Day — coaxed to the surface (to the extent coaxing is needed) with the help of coded appeals from McCain and his conservative allies. Racial issues tend to hover in the background in much of the public analysis of the Obama-McCain horserace — often mentioned but not usually as the dominant factor. By contrast, it is increasingly the subject of obsessive interest in the nonstop, not-for-attribution conversation that takes place between reporters, political analysts and campaign sources in the heat of an election. As a result, much of the news coverage and commentary that the media will produce over the next month will flow from the assumption that racial antagonisms are an unexploded bomb in this contest. By this logic, if Obama does not head into Nov. 4 with a lead of at least several points in the polls, there is a good chance he'll be swamped by prejudice that will flourish in the privacy of the voting booth.
10/6/08, How Obama quietly targets blacks. As Barack Obama trekked through the Philadelphia suburbs, Northern Virginia and Greensboro, N.C., in recent days, his campaign was ramping up a massive parallel effort in big cities like Detroit, Cleveland and Miami. In the largely black precincts of those metropolises, radio broadcasts blast constant reminders to vote for Obama, field organizers swarm, and megastars including Jay-Z, Russell Simmons and LeBron James have led massive rallies, working to reach not just the substantial portion of the black community who regularly come out to vote but also the younger people and others who have never before cast a ballot. Though the rallies are publicized, much of the advertising directed at black voters isn't. Get-out-the-vote ads on radio and television aren't released to the media, and the number of new voters Obama has registered is a closely held secret. He is, however, leaving no stone unturned when it comes to registering African-American voters. Little of this targeted outreach has produced images of Obama addressing black crowds or mingling with black officials, and most has gone unnoticed by the broader electorate. "If you didn't notice it, then you probably weren't the target," said Obama spokesman Corey Ealons of the targeted advertising.
10/6/08, It's NOT the racial issues, stupid. "I'm hearing, 'Oh, you know, he's just not ready.' I don't know whether some of that has to do with his color. I think some of it does," said Boscola, a veteran Democrat from Northampton County in the Lehigh Valley. "They say that they don't trust him, and I don't get it. What is it about him that's bothering them? ... It has to be [about his race], because they're trying to find an excuse." Yet at the same time, many of these politicians are reporting another phenomenon — that there is one central concern at the moment, the economy, and it seems to trump all others, even deep-seated racial prejudice.

Gallup, October 7, 2008, Americans' Satisfaction at All-Time Low of 9%. Dismal rating sets stage for town hall-style debate. Presidential candidates Barack Obama and John McCain are set to meet for the second presidential debate in Nashville Tuesday night at a time when only 9% of Americans are satisfied with the way things are going in the United States -- the lowest such reading in Gallup Poll history.
Washington Post, October 7, Obama Leading In Ohio, Poll Finds. Edge Is 6 Points In a State Looming Large for McCain. Aided by the faltering economy, Democratic presidential candidate Barack Obama has the upper hand in the race for Ohio, according to a new Washington Post-ABC News poll, putting Republican John McCain at a disadvantage in a state considered vital to his chances of winning the White House in November. The new survey underscores the degree to which the economic crisis has shaken up the presidential race and the obstacles that now confront McCain in the final month of the campaign. No Republican has ever been elected president without winning Ohio, and the state's 20 electoral votes are of paramount importance to McCain. There are indications from the survey that Obama also may have an early advantage in mobilizing and turning out Ohio voters over the next month. He has more enthusiastic supporters than McCain does, and has reached more voters in Ohio than his rival.
NYT 9/17/08. Abortion Issue Again Dividing Catholic Votes. A struggle on how Catholics should apply their beliefs in politics is reaching swing cities like Scranton, Pa.
September 17, 2008. Gallup. Shifts in Last Two Months of Election Not Uncommon. Average change in "gap" since 1936 is 6.6 points. A question of keen interest to election observers is the following: To what degree do presidential elections change between the end of the political conventions and Election Day?
NYT 9/15/08. Both Sides Seeking to Be What Women Want. By KATE ZERNIKE. In particular, the campaigns are competing for working-class white women, the group that could be especially pivotal in the hotly contested states.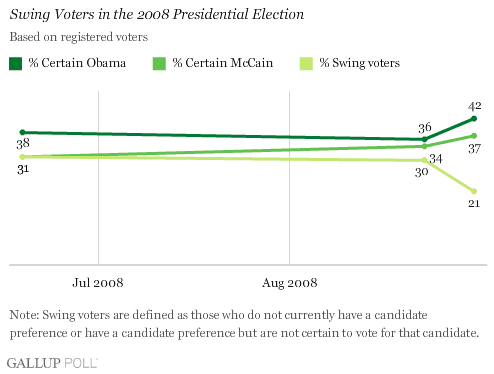 And ... SNL's season opener, 9/13/08 ...


Background from a Spring 2008 Baton Rouge poll
conducted by Weil's Sociology 2211 class.

Respondents felt thatMayor Kip Holden had done a great job and deserved to be re-elected. In fact, Holden won the Fall 2008 election with 71% of the vote.


Significantly, Holden, an African American Democrat, overcame all party, race, and ideological divisions in the Baton Rouge electorate. Those division still play a role in politics, as indicated by Baton Rouge preferences in a (then hypothetical) match-up between Barack Obama and John McCain in a presidential election.



Source: 2008 Baton Rouge Poll (4/08, N=329),
Conducted by the Students of Sociology 2211, "Sociological Methods," LSU

Conclusion: It is clearly possible for a candidate to overcome partisan, racial, and ideological divisions in America today - if the issues are favorable and if the candidate can make that kind of appeal.


back to top